Executive Leadership Team
Mark J. Barrenechea
Vice Chair, Chief Executive Officer and Chief Technology Officer
Mark J. Barrenechea joined OpenText as President and Chief Executive Officer in January 2012, and also serves as a member of the Board. In January 2016, Mark took on the role of Chief Technology Officer. In September 2017, he was appointed Vice Chair, in addition to remaining the Chief Executive Officer and Chief Technology Officer.
As CEO of Canada's largest software company, Mark oversees the strategic direction of the organization and upholds the company's position at the forefront of the industry. Under his direction, OpenText has grown both organically and through strategic acquisitions, into a $2.8 billion technology company.
Mark's unwavering commitment to innovation and results, combined with a dedication to customers' needs, led him to successfully realign the company's products, transforming OpenText into an Information Management leader.
A prominent thought leader, Mark's extensive experience in information technology affords him a unique insight into the technological changes ushering in the fourth industrial revolution. In his latest book, The Intelligent and Connected Enterprise, Mark identifies how to securely transform information into an asset that can be used to reimagine business for unlimited potential in an ever-changing digital world.
Before joining OpenText, Mark was President and Chief Executive Officer of Silicon Graphics International Corporation (SGI), where he also served as a member of the Board. A pioneer of Technical Computing, Mark defined and distinguished the new market from Business Computing and established SGI as one of its leaders. During his time at SGI, he led the company's strategy and execution. His role included transformative acquisition of assets as well as penetrating diverse new markets and geographic regions.
Prior to SGI, Mark served as Executive Vice President and CTO for CA, Inc. (CA), (formerly Computer Associates International, Inc.) and as a member of the executive management team. Mark was also Senior Vice President of Applications Development at Oracle Corporation, responsible for managing a multi-thousand-member global team. Additionally, he was a member of the executive management team.
Mark has also served in a number of other positions, including Vice President of Development at Scopus, a software applications company, and Vice President of Development at Tesseract, where he was responsible for reshaping the company's line of CRM and human capital management software.
Mark has been the recipient of many accolades over the years. In 2011, the San Francisco Business Times named him the 2011 Best Large Company CEO. Most recently, he was named the 2015 Results-Oriented CEO of the year by the CEO World Awards. The prestigious award recognizes Mark's leadership and innovation in attaining results for the company and its customers.
Mark has authored a number of other books including The Golden Age of Innovation, On Digital, Digital: Disrupt or Die, Digital Manufacturing, Digital Financial Services: The Greatest Revolution Since Minted Money, eGovernment or Out of Government, and Enterprise Information Management: The Next Generation of Enterprise Software. He has also authored several white papers, such as The Resilient Organization: COVID-19 and New Ways to Work, Cloud: The Destination for Innovation, Security: Creating Trust in a Zero Trust World, and The Information Advantage.
Mark holds a Bachelor of Science degree in Computer Science from Saint Michael's College. He currently serves as a member of the Board and Audit Committee of Dick's Sporting Goods and as a member of the Board of Avery Dennison.
For more industry thoughts from Mark, you can subscribe to his blog, follow him on Twitter or connect on LinkedIn.
Gordon A. Davies
Executive Vice President, Chief Legal Officer and Corporate Development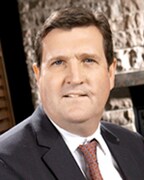 Gordon A. Davies joined OpenText as Chief Legal Officer in September 2009. Gordon also has responsibility for Corporate Development, the Office of the Chief Compliance Officer and the Corporate Secretary Group.
Prior to joining OpenText, Gordon was the Chief Legal Officer and Corporate Secretary of Nortel Networks Corporation. During his sixteen years at Nortel, he acted as Deputy General Counsel and Corporate Secretary during 2008, and as interim Chief Legal Officer and Corporate Secretary in 2005 and again in 2007. He led the Corporate Securities legal team as General Counsel-Corporate from 2003, with responsibility for providing legal support on all corporate and securities law matters, and spent five years in Europe supporting all aspects of the Europe, Middle East and Africa (EMEA) business, ultimately as General Counsel, EMEA. Prior to joining Nortel, Gordon practiced securities law at a major Toronto law firm.
Gordon holds an LL.B and an MBA from the University of Ottawa, and a B.A. from the University of British Columbia.
He is a member of the Law Society of Upper Canada, the Canadian Bar Association, the Association of Canadian General Counsel and the Society of Corporate Secretaries and Governance Professionals.
Prentiss Donohue
Executive Vice President, SMB/C Sales
Prentiss Donohue is the Executive Vice President of Small and Medium-sized Business and Consumer (SMB/C) Sales at OpenText. With a focus on delivering Cyber Resilience to over 11 million customers, the SMB/C organization includes the Carbonite; Webroot; MailStore; Mozy; HighTail and eVault teams at OpenText.
Joining OpenText in April 2016, Prentiss brings more than 25 years of technology experience in a variety of executive roles. His previous executive roles at OpenText include leading the Partners and Alliances organization which engages with Ecosystem partners; GSIs; and resellers., SVP of our Professional and Managed Services businesses; and SVP of the Portfolio Group, which focused on strategic acquisitions.
Prior to joining OpenText, Prentiss spent 6 years at Oracle and served as Group Vice President and General Manager of Advanced Customer Services business for North America, where he was responsible for driving Oracle's software, systems and cloud service in both the direct and indirect channels. Before Oracle, Prentiss worked at Sun Microsystems for 12 years in various leadership roles.
Prentiss holds a BA from the University of Colorado and has completed executive leadership programs at the University of Michigan Ross School of Business and the University of Hong Kong.
Paul Duggan
Executive Vice President, Worldwide Renewals
Paul Duggan is the Executive Vice President, Worldwide Renewals, leading our Cloud, Off-Cloud and SMB Renewals teams across the globe.
Paul joined OpenText in January 2017 as Senior Vice President of Revenue Operations, where he was responsible for operations across sales, professional services, business networks, and customer support. He led organizational focus across a range of critical areas, such as planning, reporting, resource optimization, enablement, and processes.
Prior to joining OpenText, Paul was at Oracle Corporation for 17 years. He was most recently the Group Vice President of Support Renewal Sales, North America and was directly responsible for $6 billion of annual support revenue for the company. This included leadership and management of several Digital Renewal Centers located across continents.
At Oracle, Paul made critical contributions to customer success, operational excellence, expense optimisation, including automation of various support renewal systems. He also held key leadership roles within Education Sales and Operations for Oracle and Siebel Systems over the course of his career.
Paul has previously served on the advisory board for the Technology Services Industry Association. He has completed executive leadership programs at the University of Michigan Ross School of Business and IESE Business School in Barcelona, Spain.
Simon "Ted" Harrison
Executive Vice President, Enterprise Sales
Simon "Ted" Harrison is Executive Vice President of Enterprise Sales for OpenText. Ted previously served as Senior Vice President in the Enterprise business unit and as Senior Vice President of Fast Growth Markets, growing the business in high potential regions including LATAM, Eastern Europe, Japan, Africa, China, Middle East and India.
Coming to OpenText through its IXOS acquisition, Ted has held a number of senior sales leadership roles throughout his 15 years with the company. Ted served as the Head of Global Services for Northern Europe before becoming Senior Vice President of Sales for the EMEA region.
Ted has successfully worked throughout his 25-year career to match business imperatives with innovative technology solutions. Beginning his career as a technical consultant, Ted then bridged the gap between technical and business to serve as a Senior Business Consultant on projects such as the European roll-out for General Motors. He has also worked in the mobile solutions field for Psion Teklogix, specializing in Supply Chain Optimization.
Ted holds an honors degree in Computer Science from Leeds University in the UK.
Kristina Lengyel
Executive Vice President, Customer Solutions
Kristina Lengyel is the Executive Vice President, Customer Solutions for OpenText, leading the highly-skilled global solutions organisation across both the cloud and off-cloud business units. With more than 25 years of experience delivering superior products and solutions, Kristina is responsible for maintaining mutually beneficial long-term relationships with customers. Kristina serves as a trusted strategic advisor to customers, empowering them to maximise their technology investments and accelerate their business value.
Prior to OpenText, Kristina served as Vice President of Global Solutions at Salesforce, heading the company's global Analytics (Tableau) services practise, the fastest growing business intelligence solution in the world helping people see and understand data. While there, Kristina and her team worked with customers to establish a data-driven culture through creativity and innovation, from the largest global enterprises to SMBs.
Before Salesforce, Kristina held key executive roles at Kronos (now Ultimate Kronos Group), overseeing global customer solutions and engineering to deliver a world-class experience and drive exceptional customer satisfaction and loyalty world-wide. She and her global team helped customers leverage the company's continuous technological innovations and the experts' unparallelled industry knowledge.
Kristina has also served as a member of the executive leadership team at Open Solutions (acquired by Fiserv), managing a large team of on-shore and off-shore technical and operations professionals, and at Concerto (now Aspect) Software, focused on the contact centre software and workforce optimisation solutions.
Kristina holds a Master's Degree in Business Administration from Northeastern University and a Bachelor's Degree in computer engineering from Sault Ste. Marie, Ontario, Canada.
Muhi Majzoub
Executive Vice President & Chief Product Officer
Muhi S. Majzoub is the Executive Vice President and Chief Product Officer for OpenText. Joining the company in 2012, Muhi has held various senior executive positions. He currently leads the development organization to define the vision and strategy for OpenText products and their transition to the cloud.
Prior to OpenText, Muhi was Chief of Products for NorthgateArinso, where he was responsible for defining the company's product vision, strategy and the development life cycle. He focused on consolidating the latest software portfolio and developing new product capabilities for both cloud and on-premises solutions.
Muhi has also held the position of Senior Vice President of Product Development for CA, Inc., where he was responsible for the development of the common technology platform and components and integration strategy.
Prior to CA, Muhi was Vice President of Product Development at Oracle Corporation. During his tenure at Oracle, he was responsible for the delivery of the Sales Automation Suite, including Sales Online TeleSales, Sales Compensation, Sales Intelligence and many other Internet technology projects, such as Oracle Store, Oracle.com and the MetaLink TAR system.
Muhi attended San Francisco State University.
For more on Muhi's thoughts and industry expertise, you can follow him on Twitter.
James McGourlay
Executive Vice President, International Sales
James McGourlay is Executive Vice President, International Sales, leading our sales, pre-sales, and partner teams in our Asia, Japan, Latin America and Advancing Market regions.
James joined OpenText in 1997, and previously held the role of EVP, Customer Operations. He has held many key leadership positions at in IT, technical support, product support and special projects. Previously, James was Senior Vice President of Global Technical Services at OpenText, responsible for Technical Support, Renewals, Customer Onboarding and Professional Services, managing all post-sale services, customer lifetime value, and accelerating customers' time to value.
James has been the catalyst for tremendous growth in the OpenText Customer Services team for the Americas. He has sponsored programs such as My Support, Partner Support Program, quality audits and enhanced Customer Support programs. He and his team are also spearheading the movement towards integrations management, social engagement support for customers and continued improvements to the customer experience.
James was instrumental in the company's early acquisitions and the OpenText Enterprise Deployment Board, which he chaired until 2010.
Renee McKenzie
Senior Vice President, Chief Information Officer
Renee McKenzie was appointed Senior Vice President, Chief Information Officer for OpenText in 2021. She leads the IT organization in delivering engaging applications, modern infrastructure and personalized experiences to employees and customers around the world, while continuing to meet OpenText's unwavering commitment to global privacy and security standards.
Renee joined OpenText in 2004 and has held increasingly senior positions in IT since that time. Most recently, she was Vice President, Enterprise Business Systems, where she was responsible for leading the applications transformation to support digital business models, and integrating applications and data from acquired companies to drive standard global processes and realized synergies.
During her tenure at OpenText, Renee has delivered more than 35 IT acquisition integration programs, and has led the delivery of digital transformation programs for Finance (ERP implementation) and Human Resources (HRMS implementation).
Renee holds Master's Degree in Business Administration and a Bachelor's Degree in Biology & Psychology from Dalhousie University in Halifax, Nova Scotia, Canada
Douglas (Doug) M. Parker
Senior Vice President, Corporate Development
Doug is the Senior Vice President, Corporate Development and a member of the Executive Leadership Team for OpenText, rejoining OpenText in October 2019. From January 2018 to October 2019, Doug served as President & Chief Executive Officer of Quarterhill Inc., focused on the acquisition, management and growth of companies in dedicated technology areas.
Doug previously served as Senior Vice President, Corporate Development of OpenText from 2015 to 2017. Prior to this role, Doug held the position of Vice President, General Counsel & Assistant Secretary from 2009 to 2015, where he was responsible for a variety of corporate legal, litigation management, and governance activities. Doug also served as Executive Sponsor to OpenText Brazil operations in 2014. Prior to joining OpenText, Doug worked for Nortel Networks Corporation in a variety of senior legal roles, including Managing Attorney, where he was responsible for the company's global M&A legal function from 2006 to 2009. Doug holds an Executive Masters of Business Administration from the Richard Ivey School of Business, The University of Western Ontario, a Bachelor of Laws degree from Queen's University, and a Bachelor of Arts (Honors) degree from Trinity College, The University of Toronto.
Madhu Ranganathan
Executive Vice President, Chief Financial Officer
Madhu joined OpenText as Executive Vice President, Chief Financial Officer in April 2018.
With more than 25 years of financial leadership experience, Madhu brings to OpenText a strategic mindset with global industry expertise and deep operational focus in software, hardware and tech-enabled services businesses, as well as a demonstrable track record of building shareholder value. Madhu is skilled at leading and supporting business transformation initiatives, strategic acquisitions and global capital raising.
Prior to OpenText, Madhu served for more than 9 years as the Chief Financial Officer for [24]7.ai, a highly global, enterprise-class software and services company that uses artificial intelligence and machine learning to dramatically improve customer experience. At [24]7.ai, Madhu was responsible for worldwide finance, accounting, treasury, planning, tax, internal audit and procurement. During her tenure, Madhu worked closely with the CEO and management team to transform the company into a technology innovator.
Madhu started her career with Liberty Mutual Financial Services and has held senior financial roles at Rackable Systems, which became SGI and is now part of HPE and Redback Networks, a telecommunications equipment company acquired by Ericsson, services platform Jamcracker, and e-Business software provider Backweb Technologies (IPO on NASDAQ). She also has public accounting experience with PriceWaterhouseCoopers LLC.
Additionally, Madhu currently serves on the Boards of the Bank of Montreal (TSX:BMO) and Akamai Technologies (Nasdaq: AKAM), where she is also a member of the Audit Committee. Previously, Madhu served as a Board Member of Watermark, a Bay Area organization focused on professional development for women.
Madhu holds an MBA in Finance from the University of Massachusetts, is a member of the AICPA and is a Chartered Accountant from India.
Brian Sweeney
Executive Vice President, Chief Human Resources Officer
Brian joined OpenText as Chief Human Resources Officer in October 2018. He has over 25 years of experience as an HR leader in high growth, global technology businesses, and professional services consulting. Brian has led organizational growth and transformation initiatives, including international expansion, M&A, global talent management, compensation and benefits, employee engagement, communication and cultural transformation.
Prior to joining OpenText, Brian worked for 15 years at Amgen Inc., a 20,000-employee global biotechnology company, based in Los Angeles, California. There, he served in HR leadership roles, including Global VP of HR, Head of HR for Global R&D, and VP of International Human Resources. During his international HR role, Brian was based in Europe for four years, leading Amgen's organizational growth and HR program development across Europe and International regions.
Before Amgen, Brian was at Dell for eight years in Human Resources where he served as Director of Worldwide Compensation and Benefits. There, he led the development of Dell's global rewards programs and managed the Compensation Committee relationship with the Board of Directors. During his tenure, Brian supported Dell's global organizational growth from 2,000 to 30,000 employees.
Previously, Brian was a Human Resources consultant at AON Hewitt Associates, working across multiple client industry sectors in the practice areas of employee benefits and executive compensation. Earlier in his professional career, Brian worked in corporate sales and sales management for Steelcase, Inc.
Brian holds an MBA from the University of Michigan and a Bachelor's degree in Sociology from Vanderbilt University.