OpenText Archiving and Document Access for SAP Solutions
A single point of access to business documents across SAP processes and applications
Gain complete transparency and efficiency in your business processes with in-context, single point of access to all of your business data and documents. OpenText™ Archiving and Document Access for SAP® Solutions allows you to store, manage, and retrieve SAP and non-SAP documents across SAP modules and applications such as SAP S/4HANA and the SAP Business Suite. Non-SAP documents can originate from various sources such as host systems, legacy software, or customer-specific applications. Users get a document-centric view of business processes with an intuitive navigation and folder structure inside SAP user interfaces including SAP Fiori.
Key capabilities include:
Secure long-term storage for SAP® data and business documents
Imaging capabilities with scanning application and viewers with notes and annotations
Integration of desktop documents and emails with optional rendering to long-term format
Business process views, SAP module and application spanning, including online and offline data
SAP ArchiveLink enriched with full text search, thumbnail selection, and configurable attributes
Localized in more than 15 languages, covering more than 100 countries worldwide
Customer Success Stories
Many customers have achieved measurable benefits when deploying the OpenText Document Access for SAP Solutions
Contact OpenText
SAP Pinnacle Awards 2019 Winner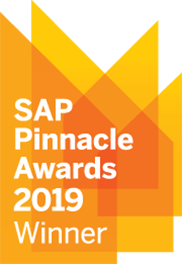 For the 12th consecutive year, OpenText is proud to be recognized by SAP® with the Pinnacle award for Solution Extension Partner 2019. SAP presents these awards annually to the top partners that have excelled in developing and growing their partnership with SAP and helping customers run better. OpenText's breadth of leading solutions deliver the information advantage to SAP customers, today and in the future.