OpenText Axcelerate
Comprehensive platform for eDiscovery and investigations
A complete solution with award-winning analytics and continuous machine learning built right in, OpenText™ Axcelerate™ helps legal teams swiftly identify the facts that matter for litigation, compliance and governance.
Earlier insights
Find the facts, relationships and documents that make or break cases with advanced analytics, visualizations and technology-assisted review based on continuous machine learning.
Faster review
Speed time to review with connectors to data sources, self-service processing and robust early case assessment (ECA) to create highly targeted document review sets.
Better results
Automatically redact and protect sensitive information, achieve higher efficiency and accuracy and create customized productions.
Smart filters
Narrow the scope of review with simple point and click controls that leverage more than 50 different metadata fields from basics such as date, source and file type to advanced communication properties.
Predictive search
Employ predictive coding on the fly without the workflow, to find similar documents across the entire data set.
Text analytics powered by OpenText™ Magellan™
Analyze sentiment, people, places and organizations across data sets. Automatically categorize documents by sentiment (positive, neutral or negative) and identify named individuals, geographic places and entitles to quickly surface new layers of information for even more advanced analysis and investigation.
Phrase analysis
Search with precision
Identify key phrases within documents and create a rich conceptual map based on relationships among words. Discover terms you may have missed while including or excluding select phrases for better search results.
Hypergraph
Analyze communications fast
Know who wrote to whom, from which domains, when they were sent and how often they occurred. Easily spot data sent to a personal account or an unknown third party.
Predictive coding
Find more with less, every time
Leverage predictive coding (technology-assisted review) based on continuous machine learning to find the relevant content in virtually any data set to speed up reviews and reduce costs.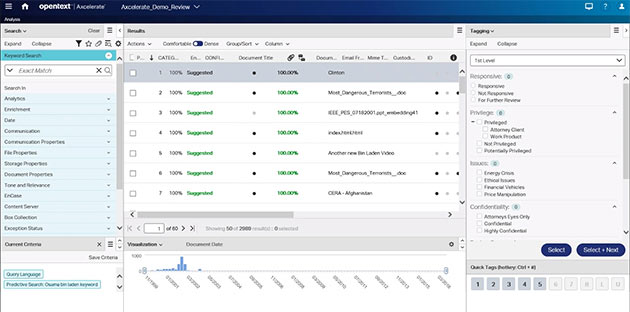 Smart redactions
Redact patterns globally
Automatically redact sensitive data such as phone numbers, SSNs and credit cards—virtually any identifiable pattern—in individual documents or across entire data sets.
Portfolio dashboards
Prove your efficiency
Provide critical insights for caseload management and departmental analysis with a macro view into discovery operations and trends to help plan, budget and institutionalize best practices.
End of branch email
Limit review to the most inclusive emails at the end of each branch and spot any missing messages.
Concept browser
Group documents by contextual meaning to help find relevant information and see beyond code names and obfuscations.
Multilingual analytics
Enrich unstructured data with powerful analytics on a language-agnostic basis, including complex languages like CJK.
Automated machine translations
Translate languages on the fly into English over a secure, API integration with Veritone aiWARE™, directly within the Axcelerate platform.
Take control
Put all matters in a single platform in a secure, scalable virtual private cloud—with unlimited analytics and total visibility. Get a demo today.