Customer Activities
Opportunities
There are so many ways for you to share your story and we want to reward you for every one! Earn points by completing the activities as outlined below. For a more extensive overview of activity type and points, please view the chart.
Customer Logo
Permission to display logo on OpenText website, presentations, marketing, and/or promotional activities.
Social Media Promotion
Permission to promote your success with an OpenText solution on Twitter, Facebook, LinkedIn and Instagram to reach a larger population of followers.
Customer Quote
Provide a quote that can be displayed on the OpenText website and included in annual reports or online/print articles.
User Experience Design Package
Participate in any one of the following user activities such as a monthly design call for user feedback, one hour session of remote usability testing via phone and desktop sharing, participate at the Innovation Lab at Enterprise World in a usability test or host OpenText staff as they spend time at your site conducting 1:1 interviews, testing and design reviews. Note: Onsite visit points will be rewarded per participant.
Host a Virtual User Group
Host a virtual User Group Meeting via phone and/or webinar to connect with other OpenText customers and share your experiences and best practice.
Investor Reference
Approval to use company name, logo and statement in an Investor Relations PowerPoint® Presentation and on the OpenText Investor Relations website.
Social Media Blog
Be featured in an OpenText Executive blog or submit a blog to be posted on OpenText channels. Subject to OpenText approvals.
Product Advisory Council
Join a Product Advisory Council to share your insights and feedback, directly influence the strategic direction of OpenText products you use today, and co-innovate new solutions to solve industry problems. PACs occur a minimum of twice per year - 1 in person event at Enterprise World and 1 virtual event.
Beta Testing
Be in the driver's seat by installing and testing an OpenText solution in your own environment. Your feedback will be used both to influence the direction and design of our released solution and within reference materials such as a customer quote.
Prospect Reference Call
Share your insights over the phone with OpenText prospects evaluating our solutions.
Authored Whitepaper/Article
Allow OpenText to share your success story in a whitepaper or article format.
Customer Vignette
Promote your success story in a business profile that will include the journey through your digitization vision, business needs, solution description, and benefits from using OpenText. Your story may be included in an upcoming OpenText book.
Analyst Reference Call
Discuss your OpenText technology initiatives with research analysts for industry and consulting reports and surveys.
Host a Local User Group
Host a face-to-face User Group Meeting on site at your office or other location to connect with other OpenText customers and share your experiences and best practices.
Onsite Visit
Host a prospect visit onsite at your organization to share your experiences and demonstrate your OpenText solution.
Podcast
Share your insight and best practices in an audio presentation format.
Press Release
Participate in a joint press release with OpenText.
Speaking at User Group/Reference Roundtable
Share your best practices at an approved OpenText User Group Meeting or Customer Reference Roundtable.
Success Story
Promote your success story in a business profile that will include your business needs, solution description, and benefits.
Webinar
Present your OpenText solution in a live online presentation.
Video Testimonial
Share your success with OpenText technology in a video testimonial.
Media Interview
Share your company's successful deployment of OpenText products and services with the media.
Speaking Opportunities
Participate in speaking opportunities at various OpenText events or OpenText sponsored conferences.
Contact OpenText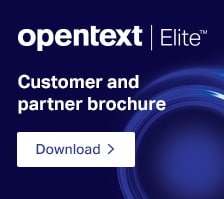 Find A Customer Story
Search our database by solution, industry, customer or region for the right story that resonates with you!