Almac Clinical Services Limited
Almac Clinical Services' Document Health Improves with OpenText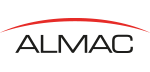 OpenText Content Server provides single source of the truth, with quick search and retrieval, improved compliance, collaboration, rapid workflow deployment, and cost savings
Challenge
Difficult to track and manage complexities of collaboration between staff and up to 600 active clients
Meeting mandatory compliance requirements extremely difficult with manual document tracking
Labelling approvals taking up to 18 weeks and reliant on wet signatures, with high courier costs across multiple countries
Existing document practices were a barrier to growth
Value
Reliable, single source of the truth and robust document control
User confidence that documents retrieved are current, helping ensure compliance
Reduction in time spent searching for documentation alone saved £350k in first year
Ability to quickly deploy new workflows using a globally defined standard base.
About Almac Clinical Services Limited
The Almac Group provides a comprehensive range of services from research through pharmaceutical and clinical development to commercialization of product. Headquartered in Craigavon, Northern Ireland, where around 2,000 of their 3,600 global employees are based, the company generates an annual turnover of $½ billion.
Contact OpenText
How Can We Help?